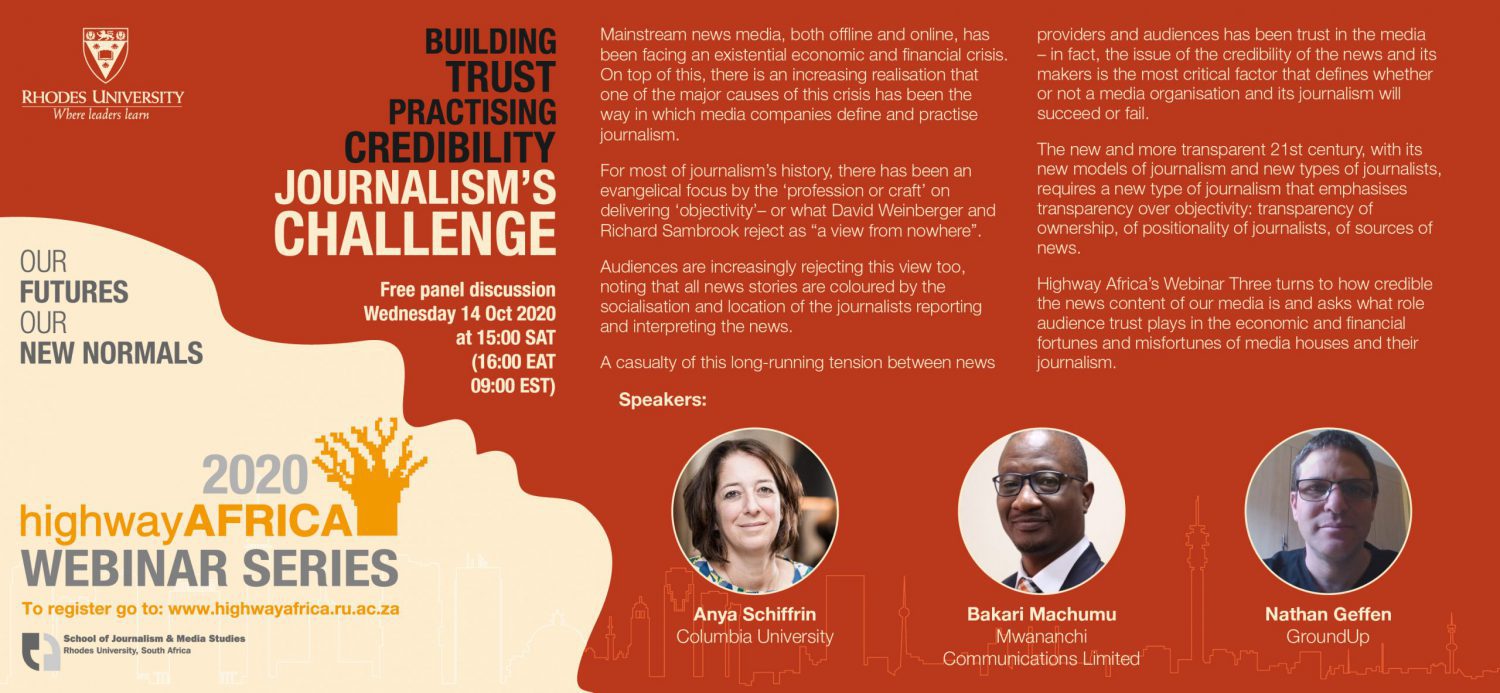 Building trust practising credibility: Journalism's Challenge
Mainstream news media, both offline and online, has been facing an existential economic and financial crisis. On top of this, there is an increasing realisation that one of the major causes of this crisis has been the way in which media companies define and practise journalism. 
For most of journalism's history, there has been an evangelical focus by the 'profession or craft' on delivering 'objectivity'– or what David Weinberger and Richard Sambrook reject as 'a view from nowhere'.
Audiences are increasingly rejecting this view too, noting that all news stories are coloured by the socialisation and location of the journalists reporting and interpreting the news. 
A casualty of this long-running tension between news providers and audiences has been trust in the media – in fact, the issue of the credibility of the news and its makers is the most critical factor that defines whether or not a media organisation and its journalism will succeed or fail. 
The new and more transparent 21st century, with its new models of journalism and new types of journalists, requires a new type of journalism that emphasises transparency over objectivity: transparency of ownership, of positionality of journalists, of sources of news. 
Highway Africa's Webinar Three turns to how credible the news content of our media is and asks what role audience trust plays in the economic and financial fortunes and misfortunes of media houses and their journalism.
Speakers
Anya Schiffrin

DIRECTOR, COLUMBIA UNIVERSITY'S SCHOOL OF INTERNATIONAL AND PUBLIC AFFAIRS

Dr. Anya Schiffrin is the director of the technology and media specialization at Columbia University's School of International and Public Affairs and a senior lecturer who teaches on global media, innovation and human rights. She writes on journalism and development, investigative reporting in the global south and has published extensively over the last decade on the media in Africa and the extractive sector. Her PHD research was on solutions to the problem of online disinformation. With George Lugalambi, she is co-editor of African Muckraking: 75 years of Investigative journalism from Africa (Jakana 2017)

Bakari S. Machumu

EXECUTIVE EDITOR, MCL AND AG

Bakari Machumu is the Exceutive Editor of Mwananchi Communications Limited (MCL), Tanzania's leading print media group which publishes several newspapers and digital outlets in both English and Kiswahili, the lingua franca of Eastern Africa. A subsidiary of Nation Media Group, the largest media company in East Africa headquartered in neighbouring Kenya, MCL publishes Mwananchi, Mwanaspoti, The Citizen newspapers and several digital outlets, including MwananchiDigital YouTube Channel.
Bakari has been Managing Editor of The Citizen and held several senior editorial positions in his media group and spearheaded digital transformation of MCL. With more than 21 years of journalism experience, Bakari is a board member of the Inter Region Economic Network in Kenya; board member of Tanzania Editors' Forum; and a board member of the Governing Council of the Media Council of Tanzania. He holds a BA from Sokoine University of Agriculture and an MBA from the Eastern and Southern African Management Institute

Nathan Geffen

FOUNDER AND EDITOR, GROUNDUP

Nathan Geffen is the founder and editor of GroundUp, a news agency based in Cape Town that focuses on human rights related stories. He was alternatively the Treasurer, National Manager and Policy Director of the Treatment Action Campaign (TAC) from 2000 to 2013. He was the editor of TAC's magazine, Equal Treatment, until 2008. He is the author of Debunking Delusions: The inside story of the Treatment Action Campaign, and the author of numerous academic and media articles. Geffen has a PhD in computer science from the University of Cape Town. His doctorate examined algorithms for modelling sexually transmitted infectious diseases.