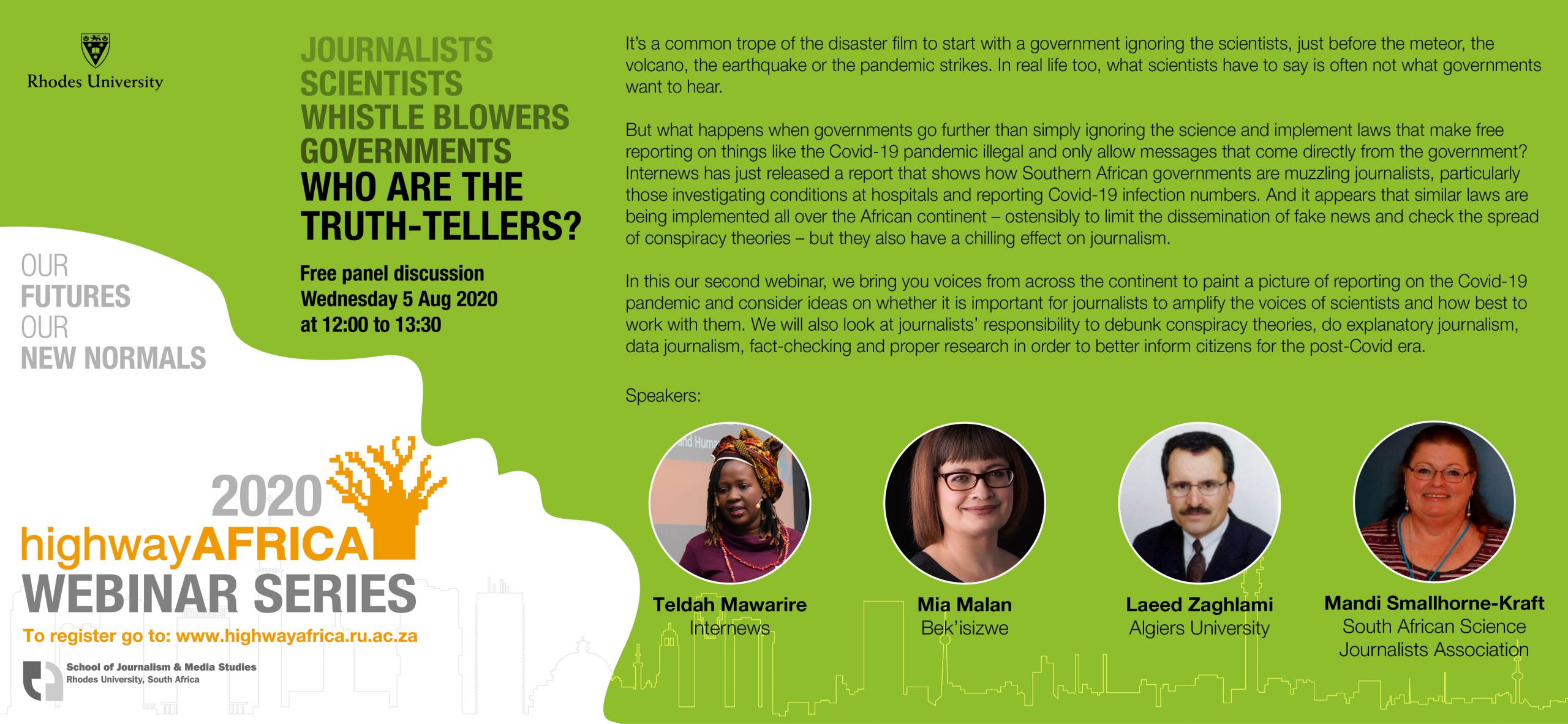 Journalists, scientists, whistle blowers and governments: Who are the truth-tellers now?
It's a common trope of the disaster film to start with a government ignoring the scientists, just before the meteor, the volcano, the earthquake or the pandemic strikes. What the scientists have to say is often not what the government wants to hear. This is why it is often so important for journalists to amplify the voices of scientists. What happens when governments implement new laws that make any reporting on the Covid-19 virus except messages that come directly from government itself illegal?
Internews has just released a report that shows how journalists have been muzzled all over Southern Africa, and how these new laws have particularly affected any investigative journalism into conditions at hospitals and infection numbers.
It appears that similar laws are being implemented all over the African continent. Restrictions around the spreading of fake news on the pandemic may be important to limit conspiracy theories, but they also have a chilling effect on journalism. And what responsibility do journalists have to work with scientists to understand the science to actively debunk conspiracy theories?
In this, our second 'free' webinar brought to you by Highway Africa (HA) and Rhodes University's School of Journalism and Media Studies in the past two months, we bring you voices from across North, West and Southern Africa.
These are journalists and researchers who will paint a picture of what it is like reporting on the pandemic, but also considering ideas (what sort of ideas? Developmental? I think you need to be more specific here) for the post-Covid era, and how journalists should relate to scientists on the continent in the longer term.
HA, set up by Rhodes University 24 years ago, is Africa's biggest and oldest conference series for journalists and media workers from across the continent. Over the years, it has brought together thousands of media people to chart the future of Africa's media and journalism and has been a key networking platform for them.
These webinar series are a prelude to the HA annual conference that is scheduled to be held next year. The conference could not be staged this year because of Covid-19 travel restrictions by all governments across the world.